The Best California Rehab Marketing Agency
California is one of the most desirable states in the union and the most competitive market in alcohol and drug rehabilitation services. Here, the rehab treatment centers know that there is immense competition for rehab facilities in their state. As there are thousands of rehab centers in California, how can you make your stand out? To promote your rehab facilities and make them available online, you need California rehab marketing services. We are here with the solution for drug rehab marketing in California.

The term "Rehab center" is the most searched keyword on Google. To make your business rank on the search engine, SEO practices are required. Digital marketing in California for drug rehab is the best option to follow. There are many companies providing services for drug rehab marketing in California. To know the main reasons and benefits why a proper marketing plan for rehabilitation centers in California is important, keep reading. You will get to know the top strategies for addiction treatment marketing California.
Top Strategies for Drug Rehab Marketing in California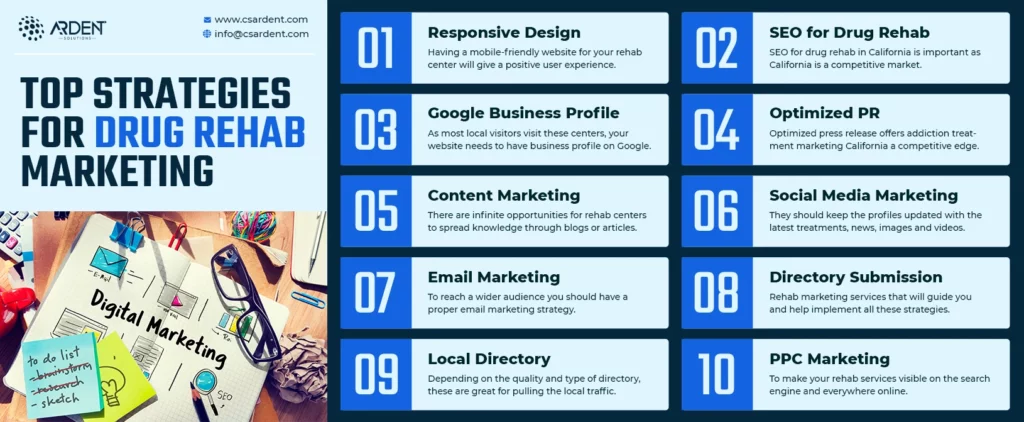 1. Website with a Responsive Design
Having a responsive website for your business is very important these days. Almost 50% of activity on the internet happens on the mobile phone. So, your website should be responsive so that users can access it on various devices without compromising the layout. Having a mobile-friendly website for your rehab center will give a positive user experience.
2. SEO for Drug Rehab in California
For drug rehab marketing in California, SEO should be the number one priority. Without proper SEO, you cannot make your rehab center website fall in the top search results on Google. SEO for drug rehab in California is important as California is a competitive market for drug addiction rehab centers.
3. Need for Google Business Profile
Having an optimized Google business profile makes your rehab center website visible for both geo-targeted and non-geo targeted searches. As most local visitors visit these centers, your website needs to have a business profile on Google. California rehab marketing services will help your website to be visible locally as your patients will be able to check the drive time and schedule their work accommodations.
4. Optimized PR (Press Releases)
Having an optimized press release offers addiction treatment marketing California a competitive edge. PR has many benefits for rehab centers. The most important is that it leads to B2B relationships with other addiction and drug rehab centers giving referrals for patients, follow-up interviews, press release announcements and much more.
5. Content Marketing
Content is the key to marketing. For rehab facilities, content marketing is valuable as through this they can write informative content for various topics related to drug addiction, their solutions to cure, treatment options, medical conditions and much more. They can spread awareness about the rehab facilities through drug rehab marketing in California. There are infinite opportunities for rehab centers to spread knowledge through blogs or articles.
6. Social Media Marketing to Promote Rehab Centers
Having a good online reputation is very important for rehab centers. They should keep the profiles updated with the latest treatments, news, images and videos. Potential patients review the social media sites for the rehab centers to know about the services they are providing, the center's reviews and the treatments. So to make any brand be found by a broader audience, implementing the right marketing plan for rehabilitation centers in California is necessary.
7. Email Marketing
Email marketing is used by rehabilitation centers across the globe. To reach a wider audience you should have a proper email marketing strategy. It will help you bring more patients and admissions to your centers.
8. Vertical Directory Submission
There are many treatment directories available online. You can go and publish your rehab centers on those directories. There are many worthy directory submission sites which can be helpful for drug rehab marketing in California. Many companies are offering California rehab marketing services that will guide you and help implement all these strategies.
9. Local Directory Submission
Another source to grow and promote your rehab center online is the local directory submission. These will help you maximize the local exposure for your rehab facilities. Depending on the quality and type of directory, these are great for pulling the local traffic
to your rehab center's website. Also, having your website listed on local directories will create a backlink which will benefit SEO for drug rehab in California.
10. PPC Marketing
Summary:

California is the hub for drug and addiction rehab centers. To make your rehab services visible on the search engine and everywhere online, you need a marketing plan for rehabilitation centers in California. You can choose any company offering California rehab marketing services to grow and promote your business. They will suggest a proper strategy for addiction treatment marketing California. This way you can find the right customers and make an identity for your brand using drug rehab marketing services in California.
Ardent digital marketing agency is a pioneer in providing Behavioral Health & Mental Health SEO services. You can also join the list of thousands of addiction treatment providers to increase ROI, generate leads & bring admissions. Just make a call on this number +1 (949) 298-9175.