How to Avoid Shady SEO in Healthcare Marketing?
A good hospital, clinic, or healthcare organization website makes patient communication easier and helps you attract more of the visitors you desire. However, none of this matters if patients are unable to locate your website on the internet. You'll need a strong SEO marketing agency, a good website, and an even better healthcare Search engine marketing and practical SEO team to get on the top page for an organic search. This blog will explain you in details how to avoid shady SEO in healthcare marketing.
4 Ways to Avoid Shady SEO in Healthcare Marketing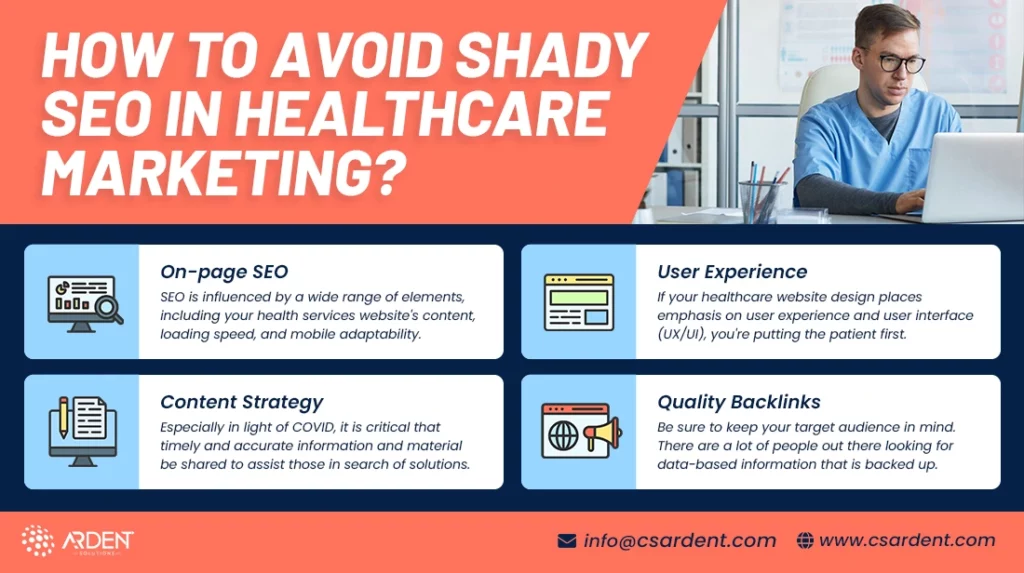 But you should also avoid shady SEO in healthcare marketing. Such practices are highly punished by Google algorithms, so it's best to completely avoid them. We will mention the dos and don'ts of SEO for the healthcare industry in this article. 

1. On-page SEO for Healthcare Marketing
The code, graphics, and phrases that comprise up your website are referred to as healthcare SEO. A large chunk of SEO is influenced by several On-Page SEO elements, including your health services website's content, loading speed, and mobile adaptability.
– Tags for the Titles of Articles
The titles of your web pages are specified by this HTML (coding) element in the site's backend. This is the headline that appears in the search results on SERPs (Search Engine Results Pages).
 – Metadata for Search Engine Optimization
A 160-character or less summary of the page's content appears right below the title tag on search engine results pages.
– Webpage Loading Time
This is also known as page speed and is an essential algorithm for Google to decide where your website will appear in SERPs. It measures how quickly your web pages load.
– User friendly Mobile Experience
Your website's content should be optimised for mobile devices so that users may access it easily. It plays an important role in people finding your healthcare facility.
– Hyperlinks 
When you include a hyperlink in your material, you must provide a clickable anchor text. The most up-to-date recommendations for search engine optimization (SEO) state that the anchor text you choose should be relevant to the page that you are connecting to.
– Italics and Bold
For Google bots, bold and italic text style is preferable since it highlights important information and makes it easier for Google crawlers to find.
– Footer
Your website's footer menu is another way for Google to identify your site's relevancy in search results.
– Changing the Material
Increasing the efficiency of your Healthcare SEO efforts and increasing your total search engine traffic may be accomplished by updating dated healthcare/medical material.
2. Focus on Good User Experience Website
If your healthcare website design places emphasis on user experience and user interface (UX/UI), you're putting the patient first. Making your website a location where people can get information rather than a place to boast is vital. Aside from the fact that it's visually appealing, it provides a unique digital experience for your patients.
The cornerstone of a successful connection with a patient is trust. Having an easy-to-navigate website is critical, given that 45% of patients use the internet to research health issues before making an appointment with their doctor. Patients will not feel overwhelmed or bewildered if the UX/UI design you choose is intuitive and practical. The fact that your staff is willing to provide knowledge rather than keep your patients in the dark fosters a relationship of trust between you and your patients.
UX/UI design that is efficient and user-friendly can be used by everyone, regardless of their abilities. When a healthcare website design is straightforward and basic, it is accessible to all users, regardless of their ability, screen size, or internet speed. 
For any healthcare website, adhering to ADA rules is essential. Accessibility for patients with impairments requires that your UX elements such as color, tone and button design be simple to understand and responsive.
Inquiring minds want to know. You need to know what queries your patients have. Your patients' demands should be your first consideration when building your healthcare website's user experience and user interface (UX/UI).
If you know what your patients care about most, you can then design a website that caters to their needs. UX/UI is all about making the user's life easier. This helps you figure out which pieces should be placed where, as well as the colours that work best for your target demographic.
3. Create a Relevant Content Strategy
It's a lot more difficult to create content for the healthcare industry than it is for other industries. When it comes to health information, healthcare professionals and hospitals regularly publish relevant information that may be helpful to both current and future patients. Search engines account for over 80 percent of all health-related inquiries, so ensuring sure your site has a broad range of information and content is critical for visibility. All of your material should be factual and easy to understand, since disinformation in the healthcare industry may damage your credibility, your reputation, and your brand as a whole.
Especially in light of COVID-19, it is critical that timely and accurate information and material be shared to assist those in search of solutions. It's critical that you maintain your website and social media pages up-to-date with the most recent and accurate information on COVID 19 variants and new numbers.
4. Produce Quality Backlinks 
Case studies, medical information, and laboratory tests are all sources of data for the healthcare business. Medical research centers and universities, as well as other reputable medical organizations, usually support the information in this section. They can help you in getting valuable backlinks.
As a result, while creating content, be sure to keep your target audience in mind. There are a lot of people out there looking for data-based information that is backed up by facts. As a result, the objective is not to produce an article that revolutionizes the healthcare business by opinion, but rather to educate your readers on the discovery or news while maintaining integrity in what is being discussed.
Not every business, product, or piece of software has data backing it up, of course. An industry insider is someone who is well-known and has power in the sector, therefore that's a good alternative. This might be a well-known physician or medical firm that has achieved substantial advancements in the realm of medicine. Even if this isn't the ideal initial step, influencers typically wield a lot of power, so it's worth a shot!
Conclusion
When it comes to the healthcare industry, digital marketing is more important than ever. Following the best practices and avoiding shady SEO in the healthcare industry is very important. Hope this article helped in devising a SEO strategy for your healthcare facility.
Ardent Consulting Agency is a pioneer in doing SEO & other digital marketing operations for Rehabs, Hospitals & other Healthcare industries. We are having clients from all over the US including Boston, California, Chicago, New York, New Jersey, Texas & Florida. So, if you are facing troubles in doing SEO for your hospital website, then we are happy to do it in behalf of you. Just make a call at this number.