Steps to Success with Content Marketing for Drug Rehab Centers
The marketing of drug and alcohol rehabilitation centers is a delicate and nuanced issue. At the same time, if you want to help the largest number of individuals and make your business financially sustainable, you must be cautious to adopt ethical drug rehab marketing techniques.
As soon as a potential patient or family member arrives at your website, every piece of material must be personalized to suit their specific needs and concerns. The content should be user friendly and informative and have different types of materials like pictures, videos and infographics.

This is why utilizing content marketing for drug rehab centers is so critical. Your content helps you establish a connection with the people who could become future customers because of the message it conveys. You'll have a considerably better chance of gaining new patients through content marketing if you succeed in this endeavor.
4 Steps to Success with Content Marketing for Rehab Centers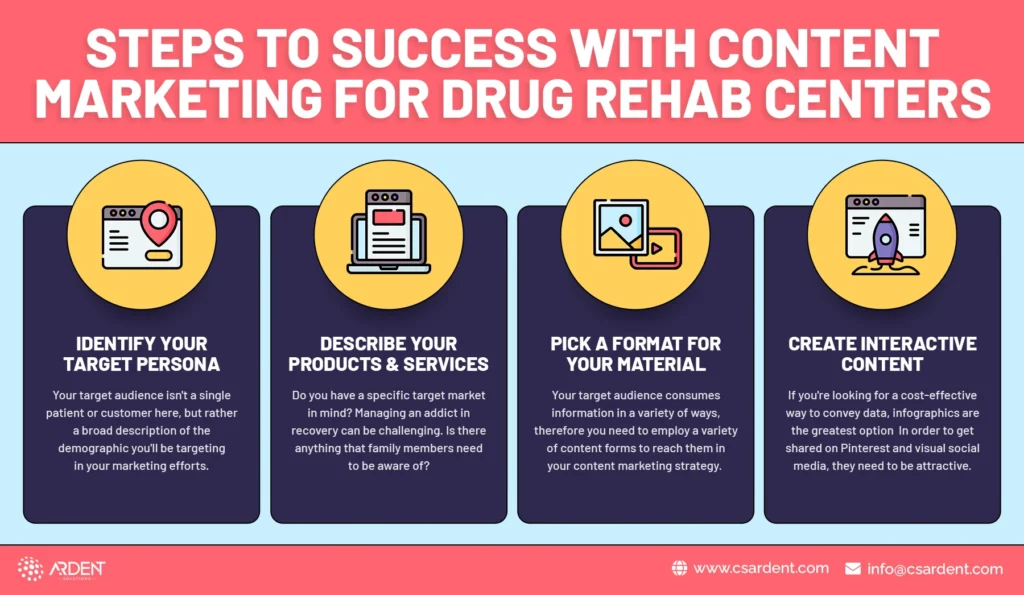 Step 1: Identify your target persona
Identifying your target audience or persona is the first step in content marketing for your drug rehab center target audience. Your target audience isn't a single patient or customer here, but rather a broad description of the demographic you'll be targeting in your marketing efforts.
This "persona" needs a name and an acceptable title to begin with. Be sure to include relevant information about the background, such as the race and gender, where they live, how they raised their family, and any other interests or hobbies they have. Take note of their occupations, hobbies, and lineage. check if there is any history of drug abuse.
Include how they feel about your service in general because this will help you handle their problems effectively. Some people may be skeptical about rehabilitation facilities, while others may be concerned about the expense or how to persuade loved ones to enrol in treatment.
Find out everything there is to know about this individual. Make sure you know them inside out. Is there anything more to do? Identify a few of the other personas. Surely not all of your patients are the same, isn't that the case? While some may be under the constant scrutiny of high-ranking executives scrambling to stay up, others may be required by a judge as medical detoxification. It doesn't really matter who they are, as long as you know who they are.
Step 2: Describe Your products and services
In what ways are you able to help the addicts? Are there any side effects? Is there a particular therapy that you focus on? Do you have a specific target market in mind? Managing an addict in recovery can be challenging. Is there anything that family members need to be aware of?
To understand more about a drug or treatment after hearing about it, it's usual for family members to seek it up online. In order to increase the number of visitors to your blog, what questions must you address? Keep this in mind while talking about your services.
In most cases, recovered addicts are reluctant to discuss their past, but you might offer to publish their tale behind a pseudonym in order to encourage them to open up. Real-life patient success stories are an excellent way to keep your audience interested in what you have to say.
Do you know of a new therapy? Any new rules or proposals that might affect your business are being discussed in your area or country? Keep your audience interested in your content by providing them with timely, relevant news.
Step 3: Pick a format for your material.
Your target audience consumes information in a variety of ways, therefore you need to employ a variety of content forms to reach them in your content marketing strategy.
Blogs and eBooks
Blog posts and ebooks will be the most common text-based forms for your material. You may get individuals to join up for your mailing list by offering them a free ebook download in return for their email address. Your authority in the sector will be strengthened, and you will be able to disseminate a lot of information in an orderly manner.
These 500-2000 word entries can be found on your own or another blogger's blog Research-based articles that cite statistics to support their assertions or even list-style posts are all acceptable forms of this type of content. Text-based postings will make up the majority of your material for drug rehab centers online marketing.
Photos
Do not be afraid to post pictures of your workplace and even industry-related news. It's a good idea to include highlighted photographs in your blog posts, and then share these images on social media. Take a picture, post it on Instagram, or any other social media site you use, and include a motivating message in the caption.
Videos
Your message will be conveyed in a clear and succinct manner via a well-made video. There are a variety of ways to use video content to benefit your patients and future patients, including facility tours, employee interviews, event highlights, and more.
Creating clips on the go is something you should not be frightened of. Those can be your best and friendliest options at times, so utilize them when you can.
Step 4: Create interactive content like Podcasts and Infographics
Podcasts
Podcasts and Gifs are a terrific method to interact with those who are too busy to read the material. Creating blog entries from your podcasts, and vice versa is a terrific method to repurpose your material. As a result, you're reaching both your intended audience and those who will hear your message.
Infographics
If you're looking for a cost-effective way to convey data, infographics are the greatest option. In order to get shared on Pinterest and other visual social media, they need to be attractive. Best results will come from including recent statistics from the drug treatment sector or insightful research you've found.
Slides
Slides are a terrific method to share presentations you gave at an industry conference, especially if the topic is understandable to those without medical training. Posting them on SlideShare and using a call-to-action on your blog to route visitors is a great method to reach more people.
Conclusion
Content marketing for drug rehab centers is important, and an amazing content marketing strategy is essential for its success. For the sake of your patients' well-being, it is your duty to be an expert in your profession. You will be able to develop a brand that your patients can rely on and be devoted to if you provide high-quality content. Increase your lead generation and have a greater effect on the lives of more people by following the advice in this article.
Ardent Consulting Agency is a pioneer in providing marketing services for mental & behavioral health facilities.