7 Effective Facebook Marketing Strategy & Tips to Market Your Business Socially
In this article you will get tips to market your business socially on Facebook. You will get 7 effective Facebook marketing strategies to promote your product & get growth.
Facebook is still dominating social networks as the leading place where friends can connect and share online content. Facebook has become not only a friendly room, but also a place where companies can promote themselves through customer interaction and self-promotion.
But it's easier said than done about business development. Therefore, when marketing on Facebook, you may be asked what you need to do to get the results you want.
Top 7 Facebook Marketing Strategies to Upgrade Your Skills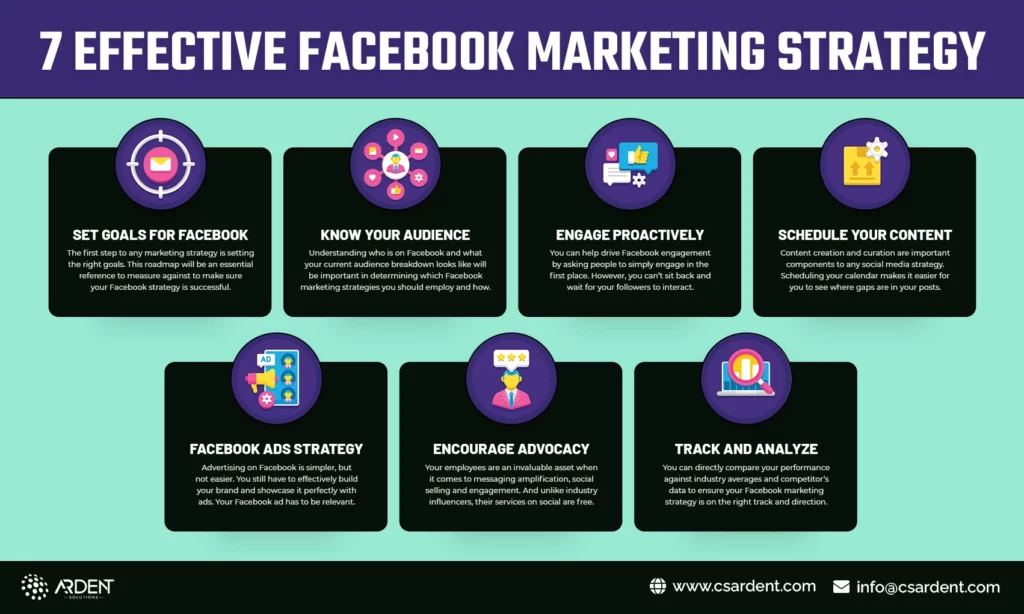 You can publish interesting posts, share more knowledge in this field, display Facebook ads, drive traffic to your website, and more. With the right strategy, Facebook marketing can be an effective option for any business.
#Tip 1: Setup Your Right Goals to Achieve Milestones
Setting goals is the first stage in any Facebook marketing campaign. Once you've set your goals, you can fine-tune your Facebook marketing strategy. This plan will be an important benchmark in ensuring the success of your Facebook strategy. However, if you want to set goals for yourself, you should first do a survey to make sure your plan is available through the platform. You must learn to set intelligent, specific, identifiable and measurable goals in order to know how to achieve them.
#Tip 2: Pinpoint Targeting of Audiences to Address Your Goals
Marketing on Facebook is useless if you don't reach the right people. That is why reaching the right audience is so important!
Whether your target audience is adults, gamers, or artists, they're likely going to be on Facebook. All you need to know is where to look. Here are the benefits how it will help you to address all your goals:
Improving your Quality of Sales: Improving your sales quality starts with better focus. Work with what you do best and use Facebook as a resource to grow your reach.
Effective Social Recruiting: Community recruiting is very difficult as its popularity is only just growing. Work with what you do best and use Facebook as a resource to grow your reach.
Be Smart to Reach Smartly: reducing downtime, reducing expenses and increasing your purchases are all part of a successful business, but Facebook can help in these areas.
#Tip 3: Engage Directly With Your Audiences Proactively
Like most social media channels, they are designed to be a network to chat, discuss and share content. As a brand, you cannot forget the basic idea of ​​what a social network consists of. This means that chatting and sharing can never be in the background.
Retargeting is targeting a series of ads to people who visit your website without buying them. The recipients for re-targeting are typically smaller than the other audiences. But it's more effective because 100% of your target audience already knows and shows some interest in your brand. You can also run digital marketing campaigns to reach your audience proactively.
#Tip 4: Choose the Right Time to Post on Facebook
One of the most difficult social media platforms to employ for organic content is Facebook. Algorithms again challenge companies trying to find the best time to send messages. When you post content to Facebook, you need to create a timeline. When the next post comes out, it will help a lot if you understand your followers.
#Tip 5: Share Your Blog Links & Site Feeds on Your Account
However, it is not enough to publish just one type of entry. There are tons of options for popular login types, and each of them can offer your users something unique.
Blog entries align not only with your website's content marketing strategy, but also with sharing on Facebook. When you share links to your latest blog posts, your Facebook followers will be able to visit and read your website, which will increase your website traffic.
#Tip 6: Use All the Facebook Tools for Better Analysis
One of the oldest social media platforms and by far the largest Facebook, it has had the status of a content-sharing platform for a long time. With so many features and content types available, you need to maximise your Facebook marketing strategies by using them wisely.
Take, for example, Business Manager, a tool to manage organic and paid Facebook posts. Another great advantage is the consolidation of work among team members.
#Tip 7: Integrate Your Social Media Sharing Everywhere
If we add market shares for Facebook, WhatsApp, Facebook Messenger and Instagram, Facebook will be almost unbeatable. To be truly successful on Facebook, you need to integrate social media wherever your business goes. Facebook dominates social networks. If you share your social profiles everywhere, you have a chance of getting more leads from Facebook.
You can also create social media links directly from posts on your site. You or your readers can easily share these blogs on your Facebook profiles and thus reach the maximum customer base.
Conclusion:
The post gives your 7 effective Facebook marketing strategies to help you in growing the followers & reaching out to the customers. With these 7 tips, you can easily upgrade & plot your Facebook strategy today. If you are new to social media marketing, & does not know in details about how to do it. Hence, you may take the help of USA's best Ardent Consulting agency which is providing its services in top 7 states like Boston, Chicago, California, Florida, New Jersey, New York, & Texas.