Best Digital Marketing Agency for Rehab Centers in USA
Rehab is a face where many people and family see hope. Rehab offers stability to people who have lost their vision and path. Thus, rehab is also encouraged by the government.
As society is gradually building and growing, we have witnessed plenty of evolutions, one of them being digital dominance over the whole world. The world has updated and prefers digital options more conveniently.
A SEO Services for Drug Rehab has been a revolutionary step in rehab marketing, and it has disclosed more options for the treatment and outcome. Ardent is a very popular digital marketing agency for Rehab Centers in California, Chicago, Boston, New Jersey, New York, Florida & Texas.

What is Marketing for Drug Rehab Centers?
Drug rehab centers are evolving every day as new and more techniques are added to the whole fundamental of rehab centers. Many rehab centers around the world are optimizing from the given technology and information and enhancing their potential in the fields.
Drug rehab provides an opportunity and hope for the people who are addicted to drugs and alcohol and consider a positive change in their life but only solving their problem would not profit the business of rehab centers. Thus, there are new and firm techniques for marketing drug centers. These techniques improve their ways of providing a better specialization for the treatment of people.
Future of Drug Addiction Treatment Marketing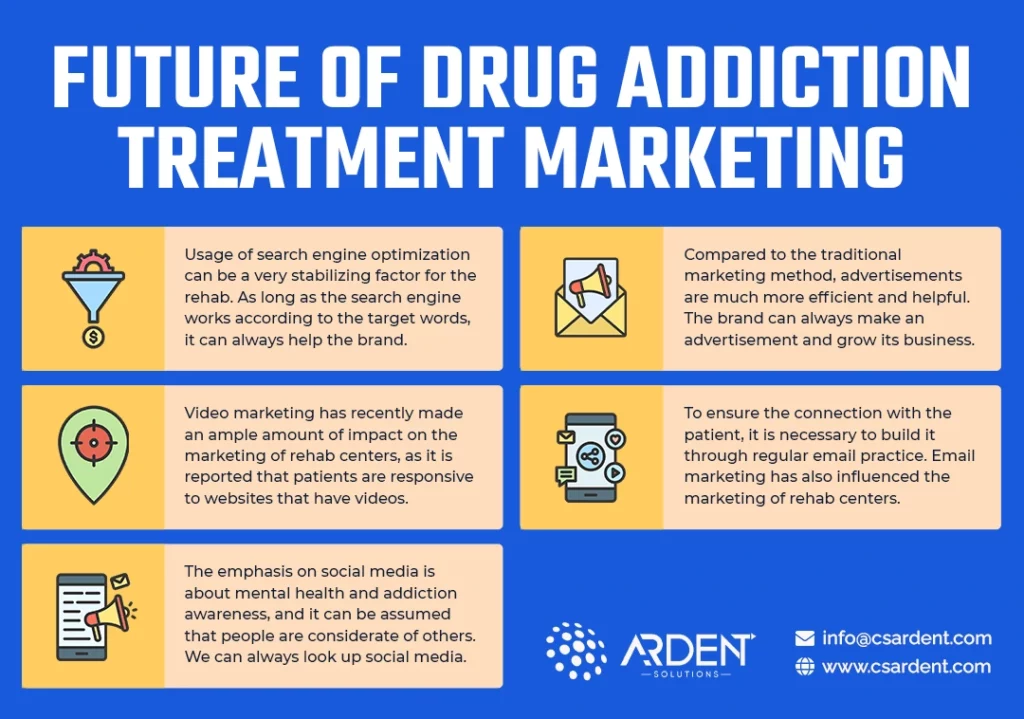 Before, when nobody was concerned about the well-being of people who were addicts, there were fewer treatment or rehab centers available to society. Whereas most of the time, these rehabilitation centers are only known to a small group of fifty people. These rehabs were in service through the traditional ways of marketing, which mainly were through talk.
The digital promotion for rehabs is now spreading throughout the whole wide world. They come with more understanding of the market and patients who require rehab.
To acquire primary information, we always turn to Google. Similarly, if someone close to us is having serious problems with their overconsumption, we can always turn to Google for assistance. Applying the usage of search engine optimization can be a very stabilizing factor for the business of rehab. As long as the search engine works according to the target words, it can always help the brand.
Considering the Google factor, a paid advertisement could be a beneficial factor for the marketing of rehab centers. Compared to the traditional marketing method, paid advertisements are much more efficient and helpful. The brand can always make an advertisement and grow its business.
A website for your brand filled with information is always helpful. Still, when we use the graphic and video compilation, it will give more credibility to the patients who would be visiting the website on the lookout for a rehab center. Video marketing has recently made an ample amount of impact on the marketing of rehab centers, as it is reported that patients are more responsive to websites that have uploaded videos. In a digital marketing firm for rehabilitation, we always encourage these types of techniques.
To ensure the connection with the patient, it is necessary to build it through regular email practice. Email marketing has also influenced the marketing of rehab centers. The rehab centers are expanding their understanding of email by providing a daily routine of emails to the patients that have a certain impact on the patient's rehabilitation; additionally, regular email delivery ensures the patients' health. This technique is inspired by the healthcare industry, which seems to provide email to patients on a regular basis, which had an effect on the rehab industry as well.
Lastly, the importance of social media and digital marketing for addiction treatment has made an impact all over the ground. Still, social media can be a whole lot more challenging to imagine and understand. The algorithm and how it works: The emphasis on social media is about mental health and addiction awareness, and it can be assumed that people are considerate of others. For centers, we can always look up social media and use the platform for marketing the rehab centers.
A proven partner – Ardent Digital
We all understand in the past how difficult it was to promote and encourage the growth of rehab centers and how it affected the people who needed treatment. This is where Ardent Digital Marketing Agency will help you.

Thus, now things are simpler. There are plenty of ways and techniques so that we can promote not only the rehab centers but also market the workforce and treatments. These marketing strategies have made more impact over the world with the awareness of drug addiction or alcohol addiction. All American detox centers do the same. They provide the best digital promotion for rehab centers and commendable treatments to the patients and take immense care of their marketing and promotion to reach the people in need. The rehab center utilizes its platform for its own rehabilitation and also to draw awareness.