On-page SEO vs Off-page SEO – Top Differences You Need to Know
We all know that search engines like Google and Bing are constantly changing their basic algorithms in order to present results in the SERP for every given keyword or query. As a result, if you want to improve your SERP rankings, you must adjust your strategy accordingly. This is known as Search Engine Optimization, and it entails making modifications based on your knowledge of keyword behavior. However, there are two sorts of SEO: on-page SEO and off-page SEO. So, in this article, we'll go over the On-page SEO and Off-page SEO difference in a nutshell.
On-Page SEO vs. Off-Page SEO: What's the Difference?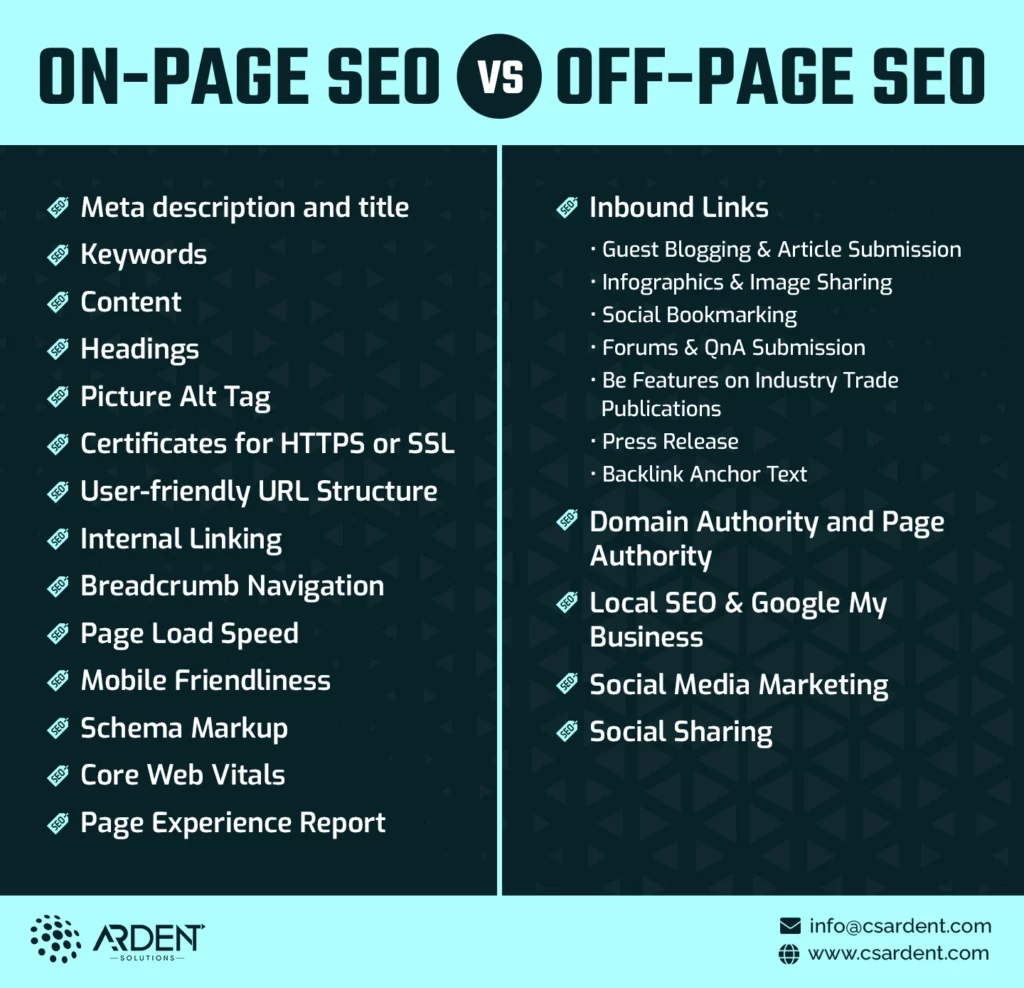 On-Page SEO:
On-page SEO is a method of optimising individual web pages in order to improve their search engine rankings and generate more relevant traffic. On-page optimization is a factor that influences how your website and web pages appear in Google, Yahoo, and Bing's natural search results.
On-Page SEO Factors to Consider:
Meta description and title: In the title tag of each page on your site, include your chosen keywords. When it comes to writing an effective title tag, there are a lot of best practises to follow. Your title tags should be no more than 60-70 characters long (including spaces). A meta description is a short summary that shows beneath the URL on a search engine results page and beneath the headline in a social media post. To ensure that your complete description appears in search results, keep it within 155 characters.
Keywords: In on-page SEO, keywords are quite crucial. Consider your ideal selection of keywords, and then optimise your content based on keyword volume, difficulty, and density, among other factors.
Content: It's critical to keep in mind that "content is king" when approaching this. You can perform all the keyword, description, and internal linking optimization you want, but no one will visit your site if the on-page content is bad.
Headings: Headings draw attention to the main point of your webpage. Keywords can be strategically used in your headlines.
Picture Alt Tag: Each image on your page should have an appropriate Alt tag. The image's alt tag informs search engines about it. When a user's internet connection is poor and a picture fails to download, the alt attribute content is displayed.
Certificates for HTTPS or SSL: Secure Sockets Layer (SSL) security technology is essential for boosting your security, trustworthiness, and visibility. SSL certificates ensure that no third parties stand between your web server and the web server of your visitors.
User-friendly URL Structure: Today, URL structures are a critical aspect. Nowadays, it's a good practice to put your focus keyword in the URL itself.
Internal Linking: Another crucial aspect of on-page SEO is linking related pages on your website. Linking to relevant pages on your site makes it easy for search engines to crawl everything and keeps users interested for longer.
Breadcrumb Navigation: Breadcrumbs are navigational tools that notify website users where they are on your site while also assisting Google in understanding its structure.
Page Load Speed: For a good SERP result, most search engines, particularly Google, consider page load speed to be an important aspect to consider. You may make your websites load faster by reducing HTTP requests, activating Gzip compression, using next-generation image formats like WebP, compressing and minifying all JS, CSS, and HTML codes, and so on.
Mobile Friendliness: Google has prioritised mobile website loading speed as a significant ranking metric in recent years. In addition to mobile page load time, website design must consider the mobile user experience. A Mobile Usability Report, which reveals any flaws your website may have, is one technique to check and optimise website layout for mobile.
Schema Markup: Adding structured data to a page helps Google understand the content better. Structured data is also used by Google to present "rich results" in SERPs, such as a recipe with start ratings or step-by-step directions with an image carousel. These rich results are frequently found at or near the top of SERPs and have greater click-through rates than standard organic rankings.
Core Web Vitals: Google's Core Web Vitals, which was launched in the spring of 2020, assists in determining a website's page performance as well as user experience. It aids in quantifying a site's experience and identifying areas for improvement. Each Core Web Vitals represents a distinct aspect of the user experience and reflects a visitor's actual experience. The current set of features addresses three areas of the user experience: loading, interactivity, and visual stability.
Page Experience Report: Google has included Page Experience Report to its redesigned search console. This report assists webmasters in optimising the page and achieving a high SEO score.
Off-page SEO:
Off-page optimization is a strategy for improving a website's ranking in a search engine results page (SERPS). Off-page SEO considered to be difficult & it frequently associated with link building, but it encompasses much more. It's also employed in marketing techniques such as blogging, website design, social bookmarking, and so on.
Important Off-page SEO Factors:
Guest Blogging & Article Submission
Infographics & Image Sharing
Social Bookmarking
Forums & QnA Submission
Be Features on Industry Trade Publications
Press Release
Backlink Anchor Text
Domain Authority & Page Authority: Domain authority is a measure of a website's ability to rank well in search engines. The excellent people at Moz came up with the official phrase and algorithmic score. Moz determines DA by combining numerous parameters such as linking root domains, total link count, and link strength into a single DA score. Moz assigns a score from 1 to 100 based on these parameters. A higher score indicates a more robust website, which is more likely to rank higher in search results. A lower score indicates that the website is weaker and will have difficulty ranking for competitive keywords.
Local SEO & Google My Business: Google My Business or GMB is Google's one-stop shop for controlling how your company appears and performs in search results. It's a must-have tool for tweaking your site's appearance in Maps, the Knowledge Graph, and organic search results. You can add NAP information, opening hours, pictures, and other information to your company listing.
Social Media Marketing & Social Sharing: The use of social media networks to manage and grow an organization's message and online presence is known as social media optimization (SMO). To boost awareness of new products and services, communicate with customers, and neutralize potentially unpleasant news, social media optimization can be utilized as a digital marketing strategy.
On-Page SEO or Off-Page SEO: Which is More Important in SEO?
According to Moz analysts, on-page factors account for 70% of good SERP outcomes, while off-page factors account for 30%. Both of these criteria, however, are equally significant. Without excellent off-page signals, stand-alone on-page SEO is ineffective. It is also true in reverse, since you cannot achieve a high position just through off-page SEO activities without a strong on-page SEO strategy.
Conclusion:
On-page and off-page SEO perform best when used in tandem to boost your search engine rankings. On-page SEO, on the other hand, takes precedence. Before spending too much on off-page SEO, experts believe that correctly optimizing your web pages is critical. You want to lay a solid basis for your link-building techniques so that your rankings can rise more quickly.
It's not always an easy task for any business owner to take care about all these On-page or Off-page SEO stuffs. Hence, they look for a SEO agency that can work on their behalf. Ardent is one such very popular digital marketing company, that handles both On-Page & Off-page tasks for any organization. Ardent is now providing its services in various states like Boston, California, Chicago, Florida, New Jersey, New York and Texas.