5 Simple Tips to Improve Local SEO Rankings
Many of our clients come to us for advice on how to help small and medium-sized businesses improve their search engine positioning. For example, if you live in a particular city or region of the country, you live in one of those places, such as California, Chicago, Texas, Florida, New York, Boston, and New Jersey, and have a limited marketing budget, we recommend that you concentrate your efforts on the immediate community. This article gives you 5 simple tips to easily improve local SEO rankings.
It is a known fact that local SEO also has good applicability in comparison to global SEO. Many businesses only focus on a certain location & providing their products or services in a limited area. For all such businesses, local SEO is the most viable option. According to a source, 50% of consumers who search locally using a smartphone will visit the store on the same day. And if the visibility of your business in your area is low, your physical space can become a place of competition.
Best Tips to Improve Local SEO Rankings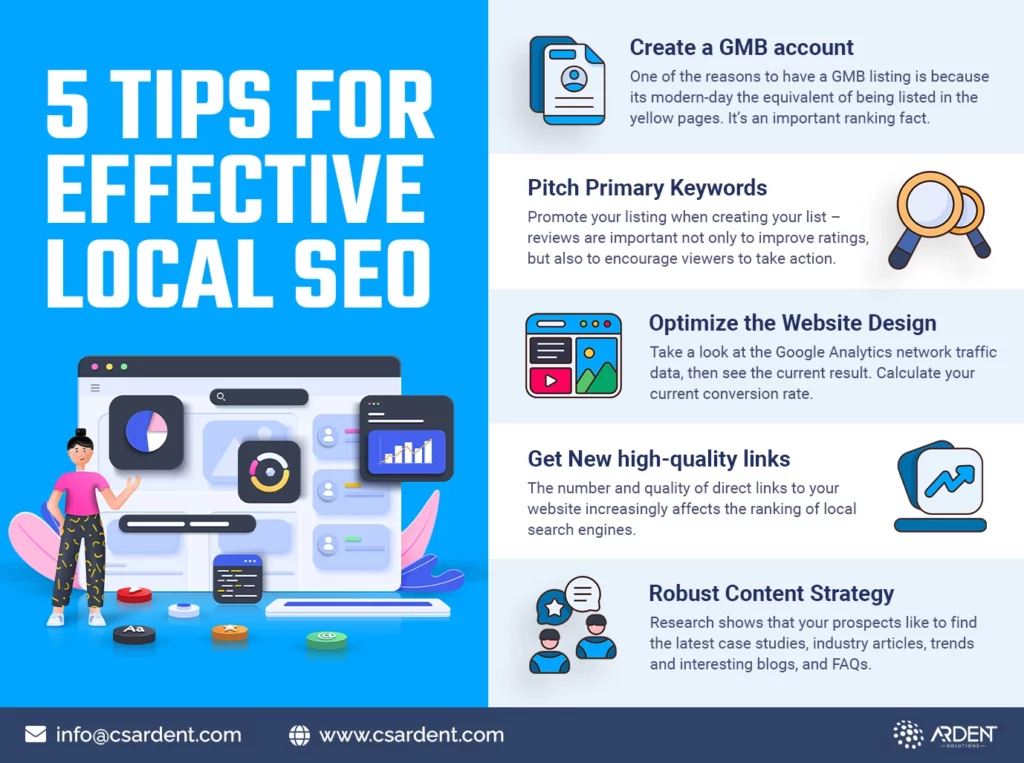 1. Create a Google My Business account
Optimizing your listing on Google (also known as your business profile) is perhaps the most effective way to increase your ranking on Google Maps as well as increase your visibility in Google local search results. However, to access and optimize your business profile, you must have a Google My Business account associated with that profile. Once you've entered all the required information in your Google My Business account dashboard, all of this information will be added to your business profile, which will appear in Google local search results, the Google Search knowledge box, and Google Maps.
2. Pitch Primary Keywords into Different Listings
Visibility of your brand on various local listings is important to local SEO. Provide local keywords and unique descriptions for different posts, make sure your photos are up-to-date, and always mention your activity category. Promote your listing when creating your list – reviews are important not only to improve ratings, but also to encourage viewers to take action.
3. Examine the Current Conversion Rate & Optimize the Website Design
Take a look at the Google Analytics network traffic data, then see the current result. Calculate your current conversion rate. Compare this to industry standards (ranges from 0.1% to 6% in most industries). If you have 5,000 target visitors per month and don't get a single call, you are likely redesigning your site. because you are not successfully selling your products / services. Make sure you also use Google My Business for optimization purposes.
4. Get New high-quality links from Authoritative Sites
The number and quality of direct links to your website increasingly affects the ranking of local search engines. Consider introducing business students to your local university, holding a discussion at a regional business organisation meeting, or posting an article online and using these opportunities to link to a partner organisation's website.
5. Robust Content Strategy
Google will improve your SEO ranking by generating high-quality SEO content on a regular basis. Research (and common sense) shows that your prospects like to find the latest case studies, industry articles, trends and interesting blogs, and frequently asked questions. Show that you know your field, have experience and are successful. I highly recommend having an intelligent content strategy.
Concluding Remarks:
In this article, you'll learn some tricks that can help you quickly improve your local SEO ranking. At Ardent Consulting Agency, you can easily improve your local SEO Ranking. It is a reputable digital marketing agency that serves many regions in the United States, including California, Florida, Texas, New York, Boston, Chicago, and New Jersey.