3 Mandatory Reasons Why You Should Hire An SEO Expert
Having an understanding of the positive effects of a professional SEO strategy is the first step toward success.
It takes a lot of time, work, resources, and constant changes to get the best outcomes. In addition, all of these tasks might distract you from doing what you like the most, which is operating your company. With the aid of SEO experts, you can take your company to new heights!
In addition, they have a wealth of knowledge about this particular digital strategy. Consequently, they are aware of current trends. This guarantees that an effective plan can be developed to produce the most appropriate outcomes for your brand, as compared to a generic approach.
Of primary importance is deciding how you choose an SEO Agency? When it comes to choosing which firm to go with, you aren't the only one. How do you determine which of the many top SEO agencies is ideal for you? Before answering these questions, let's first understand what the need for an SEO agency is?
What is an SEO Agency and do You Need an SEO Agency?
SEO is a must-have for brands because it is the most practical and cost-effective way to learn about and connect with customers at important times.
A business that specializes in online marketing may perform a wide range of services. They may assist you with getting ranked in search engines, improving your rankings, optimizing your website to run better, assisting you with content creation, and a variety of other services. One such amazing SEO Agency is Ardent Consulting Agency.

SEO experts and companies all have their own unique sets of services to offer, as well as their own pricing structures and outcome guarantees for their customers.
SEO firms assist businesses in identifying and addressing their immediate needs, as well as simplifying the process of How do you choose an SEO Agency?
What Services do SEO Agencies Provide?
Now that you are familiar with the term "SEO agency," it's time to take a closer look at what SEO firms have to offer. When it comes to SEO, it's important to work with a business that provides a whole range of services from start to finish.
When it comes to SEO contracts, a quality SEO business should often cover the following items:
Website structure analysis
Off-page online analysis
Onsite content optimization
Website code and structure optimization
Website content analysis and includes conversion rate analysis
Overall, the above-said services help you implement an effective SEO strategy and what makes a good SEO agency.
The Top Three Reasons to Hire the Best SEO Agency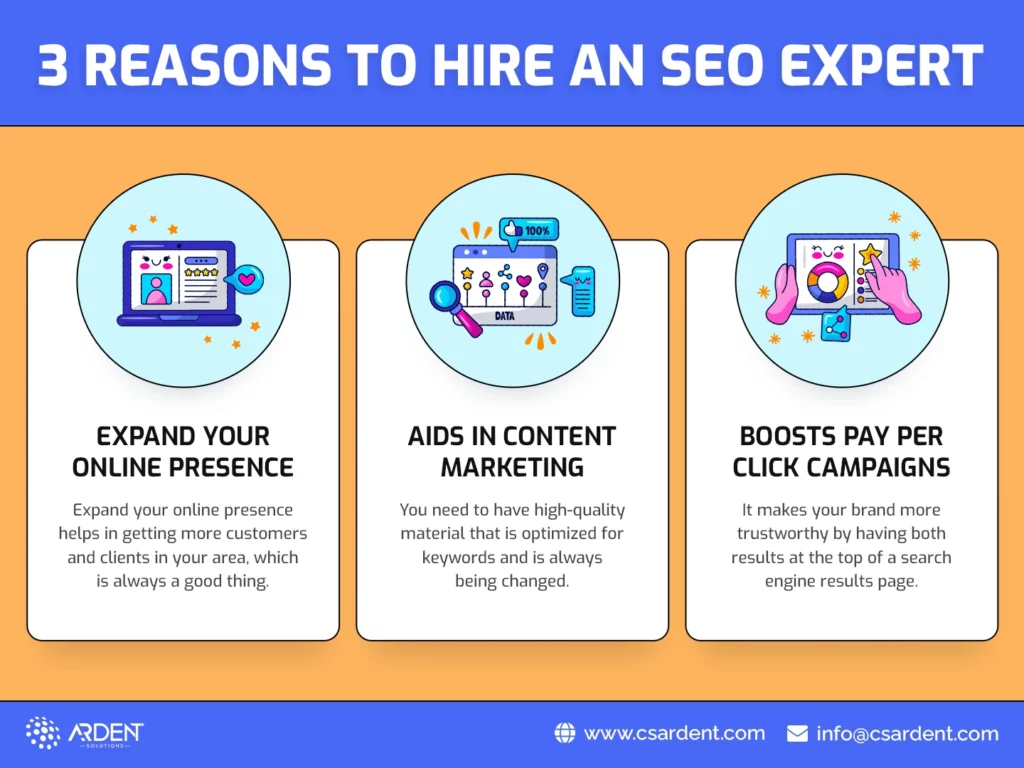 Expand your Online Presence
No matter how successful your brand or company is, it is impossible to stress the importance of having an effective online presence. This is particularly true if you are operating a company that is mostly online and relies on getting clicks in order to be successful.
An improved local SEO strategy is essential for anyone who works primarily with small and medium-sized businesses. It might help you get more customers and clients in your area, which is always a good thing.
It Aids in Content Marketing
You may improve your site's ranking in search engine results by generating useful content for your visitors that includes both written and visual elements, such as photos and videos. Furthermore, SEO may also help with your content marketing initiatives.
When you want to show up high in search engine results, you need to have high-quality material that is optimized for keywords and is always being changed.
It Boosts PPC Campaigns
Search engine optimization (SEO) and pay-per-click advertising (PPC) complement each other well. PPC and SEO both help your site get to the top of organic search results as well as help people make things easier on How do you choose an SEO agency? It makes your brand more trustworthy by having both results at the top of a search engine results page.
This shows that you aren't just spending money on ads to be at the top. For instance, if your term has a low cost-per-click, you may be able to get even greater results using SEO in conjunction with PPC advertising.
Final Thoughts
So that's all then! 3 reasons why collaborating with an agency is absolutely essential for your brand or company. When you deal with an expert, the experience is unparalleled. They will make sure that your website meets all of the requirements so that you can get more visibility on the internet and rank for relevant keywords.
Related Stories:
The more consumers and clients you can bring in through expanding your internet presence, the more money you can make. You will get it done correctly the first time, and you won't spend time doing it yourself if you hire a professional.